BMW X1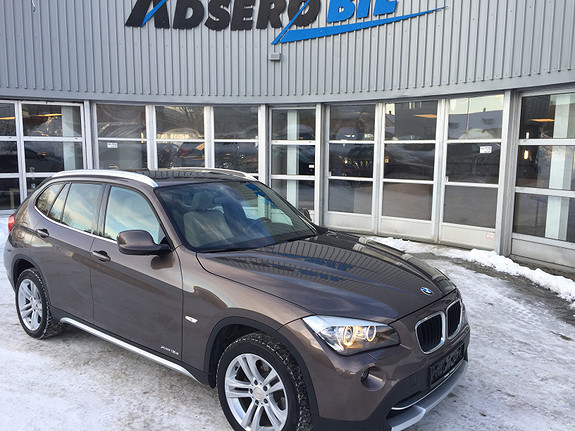 Pris kr. 249775.-
Service:
Servicehistorikk
Pris uten omregistrering:
Kr. 246000.-
Omregistrering:
Kr. 3775.-
Kontaktinformasjon
Åpningstider Hverdager: 09.00-16.30 Torsdag: 09.00-19:00 Lørdag: 10.00-14.00
Adserø Bil ASTravbaneveien 5 7044 TrondheimTlf: 7389 3020
Beskrivelse
Meget pen og velholdt bil.

Må sees!

Utstyrsliste:

P7G8A?Design Cool Elegance
S1CAA?Selection of COP relevant vehicles
S1CBA?CO2 package
S1CDA?Brake Energy Regeneration
S205A?Automatic transmission
S216A?Hydro steering-servotronic
S230A?Extra package, EU-specific
S235A?Towing hitch, detachable
S248A?Steering wheel heater
S249A?Multifunction f steering wheel
S255A?Sports leather steering wheel
S258A?Tire with run-flat functionality
S2PAA?Wheel bolt retainer
S2S7A?BMW LA wheel, Star Spoke 317
S346A?Chrome Line exterieur
S3ATA?Roof rail, aluminum, satin finish
S3XLA?Exterior design components for X Line
S402A?Electric panoramic roof
S413A?Trunk room net
S420A?Sun protection glazing
S428A?Warning triangle and first aid kit
S431A?Interior mirror with automatic-dip
S481A?Sports seat
S493A?Storage compartment package
S494A?Seat heating driver/passenger
S4AEA?Armrest front, retractable
S4CHA?Fine woodgrain version 'Fineline Wave'
S502A?Headlight cleaning system
S508A?Park Distance Control (PDC)
S520A?Fog lights
S521A?Rain sensor
S522A?Xenon Light
S534A?Automatic air conditioning
S544A?Individual equipment
S548A?Kilometer-calibrated speedometer
S563A?Light package
S5DAA?Passenger airbag deactivation
S606A?Navigation system Business
S644A?Preparation f mobile phone w Bluetooth
S698A?Area-Code 2 for DVD
S6FLA?USB/Audio interface
S6NFA?Music interface for Smartphone
S6S4A?Language version Swedish
S6UHA?Traffic Information
S6VCA?Control for Combox
S775A?Headlining anthracite
S842A?Cold-climate version
S843A?Power reduction
S850A?Dummy-SALAPA
S888A?On-board vehicle literature Danish
S8KAA?Dummy-SALAPA
S8SMA?Car ident. number visible from outside
S8SPA?Control unit CO2
S8TGA?Thiefproofing device
S8TKA?Passive pedestrian protection
S8TNA?Daytime run.lights adjus.via light menu


finansieringen ordner vi gjerne. be om tilbud



Kontakt en av våre selgere:
Ivar Vikaunet 99338500
Ketil Adserø 98829229
Svein Dalen- distrikt Fosen 93042255

Adserø Bil as er et meget solid selskap som har holdt på med Lexus og Toyota i 16 år, og er også SsangYong forhandler.
Spesifikasjoner
Farge:
Beige
Merke:
BMW
Kilometerstand:
89500 km
Modell:
X1
Type:
1.8D 4wd skinn panorama
Avgiftsklasse:
Personbil
Salgsform:
Bruktbil til salgs
Antall seter:
5
Girsystem:
Automat
Hjuldrift:
Firehjulsdrift
Årsmodell:
2012
Karosseri:
SUV/Offroad
Befinner seg i:
Trondheim, Norge
CO2-utslipp:
164 g/km
Effekt:
136 Hk
Motorvolum:
2 liter
Drivstoff:
Diesel